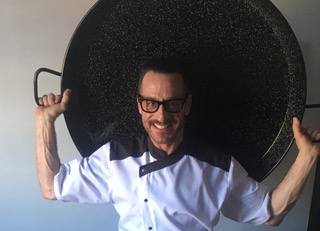 Hello! I'm Christopher Gaddess,
I am a classically trained, self employed, private chef & custom caterer based in Manhattan NYC. My culinary journey began in rural PA in a small town that was essentially a food desert by today's standards. Although my family meals had their shining holiday moments, it was the exception not the rule to the frozen TV dinner era I grew up in. As a kid I thought that was all there was. Then a foreign exchange student shared my home, their culture & cuisine with me, and this opened my young eyes. This was well before there was a Food Network and most Americans considered themselves armchair 'foodies". That experience & the discovery of my father's dusty James's Beard cookbooks sealed the deal. I never looked back.
I got the mandatory local work experience, entered the culinary program with The Culinary Institute of America and since traveled the globe with NYC as home base. Having worked in many sectors of food prep in hotels, restaurants & private residence, I ultimately decided to create my own service, one where I could freely practice my passion for cooking, creating menus and having the pleasure of working one on one with wonderful clients. I have always had a strong background and deep commitment to local cooking, supporting farmers & co-ops using seasonal organic ingredients grown and produced in a healthy, clean sustainable environment. This culminates to form a flexible & creative cuisine with delicious American and international flavors customized to each clients preference.
I aspire to provide a service that meets your needs. As your caterer I hyper focus on one event per day "yours" so I may enjoy the reason I'm in the biz "cooking". I will personally discuss the details of your event, explore your personal taste and requirements no matter how large or small and design a menu proposal & event plan that's a custom fit. I have a broad base of experience ranging from styled cocktail parties & sit down or standing dinners, casual family gatherings, corporate lunches, gallery openings, couture weddings, fundraisers among others. I love a creative challenge. My catering services the tri-state area & my private chef work services the globe. If an event date or private booking need is coming up feel free to reach out to discuss availability & possibilities, logistics & pricing.
If you have any questions about the services described or interested in consulting, food styling and kitchen design I am happy to offer further information.
I Look Forward To Serving You Soon!
Chef Christopher AKA Chef Gaddabout